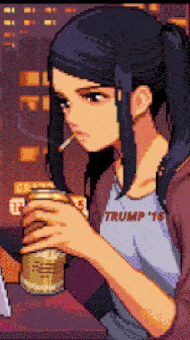 Administrator
Head Staff
WW3 RP Server Director
Joined

Apr 26, 2016
Messages

5,274
Nebulae

21,301
​
Okay so now that the logo got your attention;
I ramble a lot about still having some sort of "bucketlist" in regards to WW3RP. So I'd like to take the remaining fans on a journey into my fever dream brain the last couple of weeks/months as I was figuring out all the stuff / scenario's I'd like to play out given the proper time and resources.
I'm not yet at a point where I can definitely state that we're actually going to do x and y. The biggest deciding factor will be involvement / investment and general enthusiasm from the community. I've slowly started gauging interest every now and then, but I've also come to the realization that this community will basically just say "yes do it" to literally everything that is proposed because there's little reason to say no.
I've an infinite pool of potential scenarios, concepts, overhauls or server ideas. But even doing two might be a stretch, so I've boiled them down to some of my favorites / most worked-out scenarios.
In general, I'd just like to discuss the different scenario's described below and see if there's any kind of potential in doing some / all / parts / versions of them during the summer period, during which I will have more spare time to actively run things.
1. Stasiland: Task Force Europa

Type: Whitelisted / temporary multi-part events.
As we all know 'Task Force Europa' is the name given to the massive NATO invasion force. A desperate attempt at forcing the war back towards Soviet ground and reconquering the Europe that was lost during the disasters of 1983 & 1990. It's enormous risk, enormous reward and the final chance for NATO to tip the scales in their favor. There won't be much left for another attempt.
A set of story-driven multi-day events that serve to each contribute to an overarching plot. Essentially a collection of short stories with a dark tone, each stretched out over several days and focusing on a relatively limited group of people.

For all 'short stories' the same guidelines apply. They are supposed to tell a gritty tale about a disastrous phase of the war. Characters are expected to be fully mortal as events unfold and all actions have consquences.

They are:

1. Steel Spearhead

Steel Spearhead (working title) follows a platoon of M1 Abrams tanks from their initial beach landing in Europe through their increasingly daring mission straight into enemy territory. Their objective, break the initial enemy resistance, relieve forward pathfinder elements, pave the way for the incoming forces and secure a crucial corridor straight into the German heartland.
Meeting allies, foes and victims along the way and having noone but themselves and their (depleting) munitions and vehicles to rely on.
The group will (in planning) consist of:
3-4 fully-crewed M1A2 Abrams Main Battle Tanks. (Each having a driver, gunner/loader & commander)
1x support APC carrying munitions, long-range communications and a small contigent of infantry.
Think Fury with a pinch of Saving Private Ryan.
2. Operation Crucible

During the initial chaos of the invasion, amidst the ongoing fire of the civil war spreading across Europe, an elite group of NATO Special Forces is sent deep into PACT-held territory. Their goal is the localization and succesful extraction of an intelligence package believed to be able to turn the tide of war.
Cut off from any form of support, deep in a now-foreign country and surrounded by destruction and warring factions. Insert, acquire, secure, extract. Simple, right?
This story is intended to focus heavily on personal motives and objectives as the centerpiece is a relatively small and elite NJSOC operator team burdened with a crucial mission under impossible circumstances.
Think Tears of the Sun with a taste of Bravo Two Zero.
3. Echoes of 83
As NATO makes landfall in Europe, the crumbling of the Warsaw Pact has already been underway for several months. Civil war brews almost everywhere and even the mighty Soviet Union cannot control its puppet states anymore.
A convoy of combined Soviet - DDR military personnel, 'enhanced' with political officers and members of the elusive Stasi 'traitor-hunters', Diensteinheit IX, has been tasked with gathering everything they can muster and proceeding to the front of an expected NATO push into Germany.

Low on morale, conflicting information and heavy tension between both "allies" contribute to a breaking point in the face of the enemy. The outcome is unclear, but NATO is coming and might deal the final blow to the motherland. Whose motherland that is, remains to be seen.

4. The spectre of the warsaw pact

Not fully thought-out yet, but the initial concept revolved around a group of Soviet/DDR Special Purpose troops / Stasi officers tasked with evacuating key individuals during the initial hours of the invasion. Subplots would include conflicting interests between sides of 'the group', unexpected changes of plans due to the (civil) war evolving and 'prioritized individuals' suddenly not being priorities anymore, not wanting to be 'evacuated' or even becoming threats to the state.
Overarching theme would be the final cracks in the Warsaw Pact and the path towards a new opposition to the western NATO alliance.
I'm still working on some ideas and revisiting some of the concepts above, something involving freedom fighters / civilians / insurgents seizing the opportunity to extend their liberation effort away from NATO/PACT. Freedom fighters (possibly supported by NJSOC 'advisers') toppling PACT governments etc etc. But my focus has primarily been on the military aspect, although every event would have neutrals / civilians / rag-tag militias mixed into them.

You get the point.

2. Stasiland: The Lost Battalion

Type: Whitelisted / Temporary server

First ones in, last ones out. A NATO pathfinder battalion finds itself at the cutting edge of the spear as they are the first to be dropped into a 'red' Europe engulfed in flames ahead of the main invasion. Their objective: secure critical strategic points and hold them long enough for the invasion forces to relieve them in the following days. Underequipped, less support from the locals than initially calculated and no way of being resupplied. These paratroopers will face a fight to the last man in order to make it to the end of the gauntlet.

This would be a temporary server concept. The main playable faction will be a whitelisted NATO pathfinder (airborne) battalion dropped into Europe. Spread out, overwhelmed and with limited supplies and a handful of objectives. The aim is to have a central 'base', a main map, where most progress takes place and the server runtime will eventually end. The 'objectives' of holding strategic spots in the region are represented through off-map events with specific tasks and timers. I guess we could visualize this on a semi-interactive map during the runtime.

As the event progresses, the pressure will be increased, difficult choices will have to be made. The outcomes are fairly open based on the actions of the troops and their leadership. Though I did design this concept to be as deadly as possible. I'd aim for a relatively large amount of people to be able to play in the battalion, but have the rate of attrition be high as well to reflect the hellscape of being an encircled and underequipped fighting force. Players who die may return as actors or opposing force outside 'the battalion'.

The server will 'finish' once either the entire battalion is dead, they've managed to escape or otherwise disappear or when their objectives have been (partially) met / they've been relieved by Task Force Europa.

Think 'A Bridge too Far' with a sprinkle of Lone Survivor, Saving Private Ryan & the lost battalion of the Argonne.
3. WW3RP: Red Dawn
Type: Open / Experimental, 'main' server without set time limit.

A continuation of the "Stasiland" lore, but pushed ahead with more liberal leaps being made. Red Dawn would be a 'main' server concept I've been tinkering with on paper and on the dev server for a while. Rundown:

Setting

Red Dawn, as the name references, would be about a PACT invasion of the United States. I don't want to go deep on the lore here but it's a setting I've always wanted to explore because I believe it has a lot of untapped potential (not just pointing at the tons of US-based maps and content available we never used because of lore).

The battle of New York takes center stage, with a PACT invasion force fighting for control over their initial landing points and the city in general. NATO would be represented as troops initially waiting to make the cross over the atlantic, reinforced with national guard and local assets. 'Militia' (seeing as p much everyone will be armed and a target for at least someone) will play a more pivotal role in the entire dynamic.

Practical

I'd want to use the concept to experiment with some things we never did before.

I believe we should try embracing the natural 'differences' between the factions that came to light over the years. Mainly the stigma that one side was 'more focused on RP' while the other just wanted to shoot things with light RP on the side.

I feel like I'd want to try turning that into actual faction philosophies.
By turning NATO into a faction built with an emphasis on RP, meaning more 'jobs' to do, more ways to work yourself up in the faction, more available RP opportunities and people around you that share the same mindset.

On the other hand, we'd have PACT forces that would be designed to be more focused on the war / combat aspect with 'light RP' being a thing that binds it together. They'd probably work with less ranks (with ranks being more set as jobs such as team leader or someone in charge of events or w/e), more action on a regular basis. But most of all, they'd be the less heavily restricted opposition for both the militia and NATO. They'd be the ones designing and carrying out objectives for NATO and other groups to complete, while at the same time filling their own action cravings.

An alternative scenario, if it turns into a toxic mess of people just playing csgo and shitting on others. Is whitelisting the PACT faction as a purely OPFOR faction, guided by a handful of trusted members and people that applied to be 'actors' or at the very least 'competent' opposition to the main player factions.

The 'militia', basically a group name for all civilian players, will be the more-or-less neutral alternative to the army factions. Open to all, and full of freedom to do what they'd want to do within certain parameters. Players can form groups, their own factions, go at it alone, assist main factions. There'd be vendors spread across the map(s) that provide them with food, weapons, ammo etc and a short list of rules they have to abide by. NATO, being in their home country, can capitalize on their MP detachment to be a main interacting point for civilians. Perhaps even start up a red scare, do spy hunting, arm trusted groups to assist against the invasion, whatever.

I'm still looking for input on things, since I'd like to try something with structuring both (or all 3) factions completely different from the traditional cloned factions. And perhaps focusing one completely on RP with action on the side might work out some issues we had in the past, if we can sustain a steady flow of action for the others.

4. WW3RP: Return to form
Type: Open / revisioned classic formula, main server concept

This isn't a very complicated idea, but it is one we can quite easily set up and run without much headache. Basically reset the dial, make everything extremely less complicated by cutting back on restrictive rules and guidelines. Just set up two factions + an option to be a lone wolf (civilian) and have them duke it out with regular map changes and the occasional event.

BUT

I'd want to find the balance between it becoming a toxic mess ánd the shitshow where people felt like some sort of elitist just because they RPd. Big shock, the kind of RP we've done on Nebulous, be that HL2RP or WW3RP or w/e, it wasn't exactly the super duper serious RP you'd see in purist servers, so lets stop pretending.

I'd say keep the 'action focus with light rp structure' as the go-to philosophy. Let people RP all they want, put a couple subtle RP requirements on certain roles and systems, but for the rest let people just play their soldier man their own way.
I've also cooked up a less complicated lore with new elements based on the player-created stasiland timeline, but more appropriate for a more easy-going setting.
---------------------------------------------------------
Now, I know about half of you (or more) aren't gonna read most of this and just comment, vote, shout whatever. But I'd appreciate it if I could get some honest feedback or perhaps even suggestions about additions / reworks. And before ya'll say I'm clinging onto some pipe dream, I just want to do some fun WW3RP stuff when I've got the time for it to let everyone blow off some steam and perhaps have it stick around for a while.
Nothing above is set in stone and everything is still on the writing table.